There are currently over 70 sculptures on display at the park. Here is a selection of 16 works. Typically, one or more new sculptures are sited at Cold Hollow each year.
The park showcases five decades of David Stromeyer's work.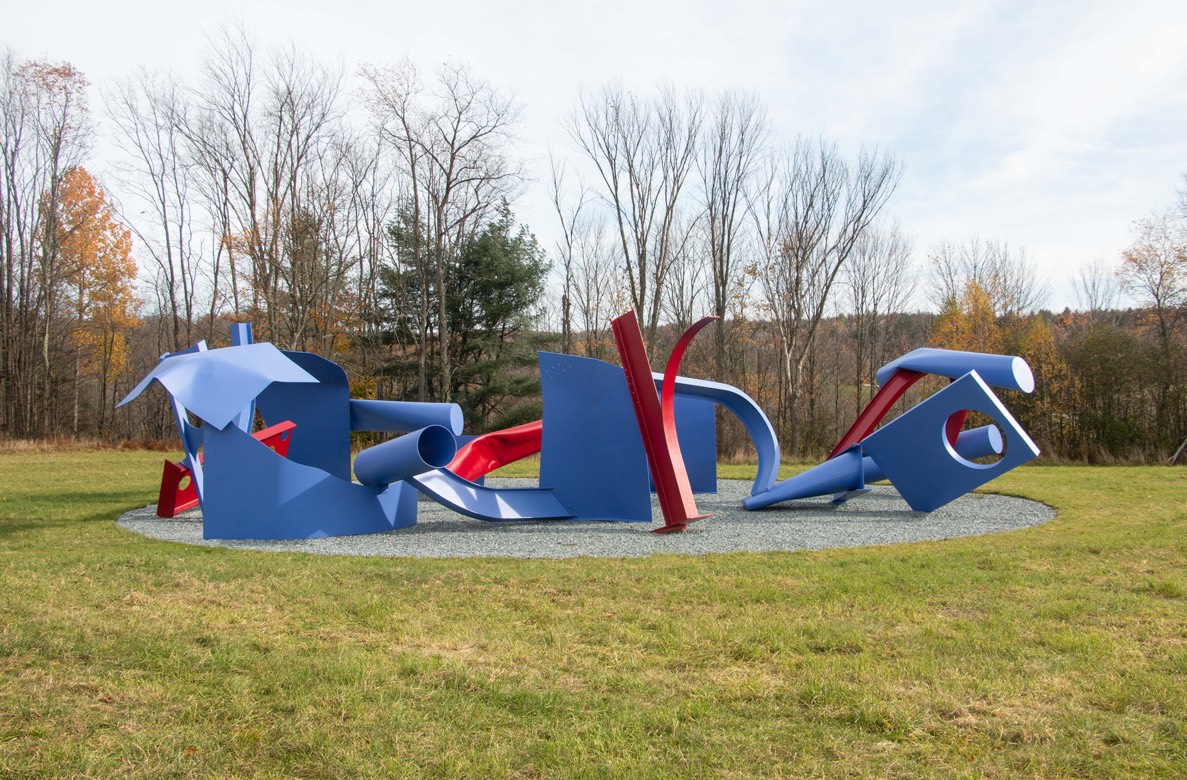 Potluck
2022 14' x 48' x 55' painted steel
A sprawling amalgamation comprised largely of components from seven previous sculptures.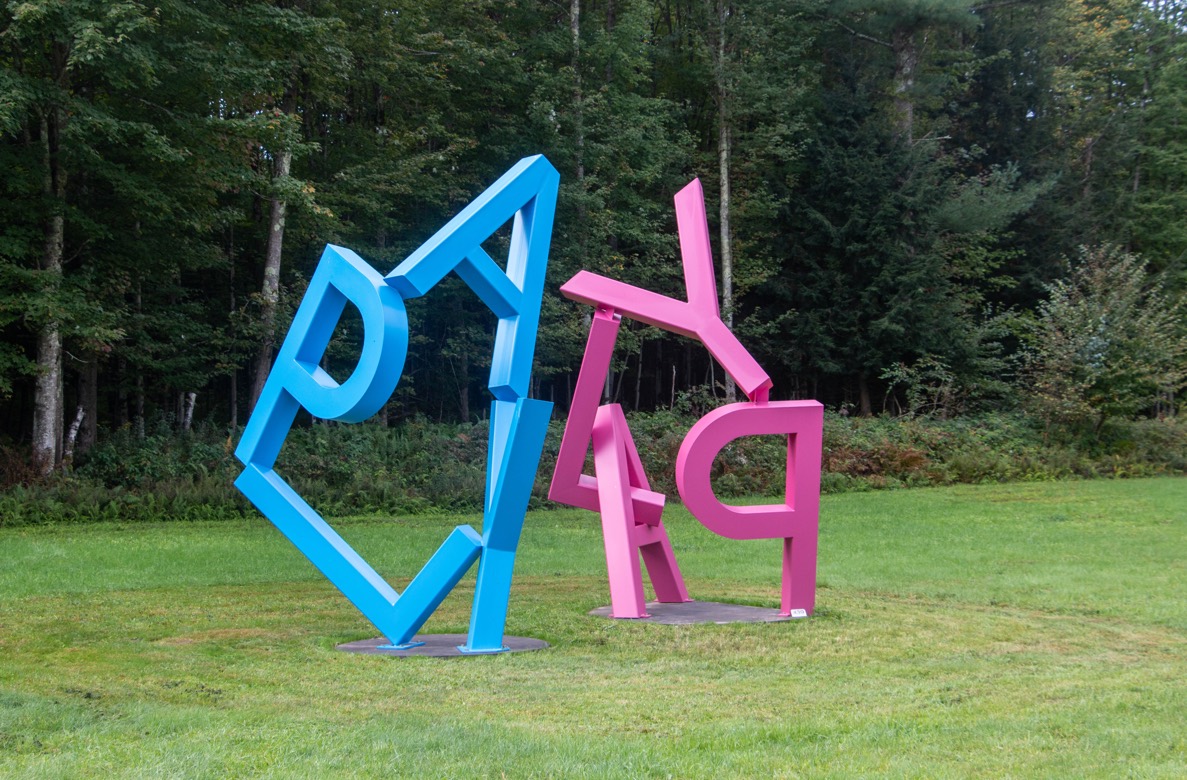 Double Play
2022 14' x 22' x 18' painted steel
Celebrating a vital component needed to ignite creativity.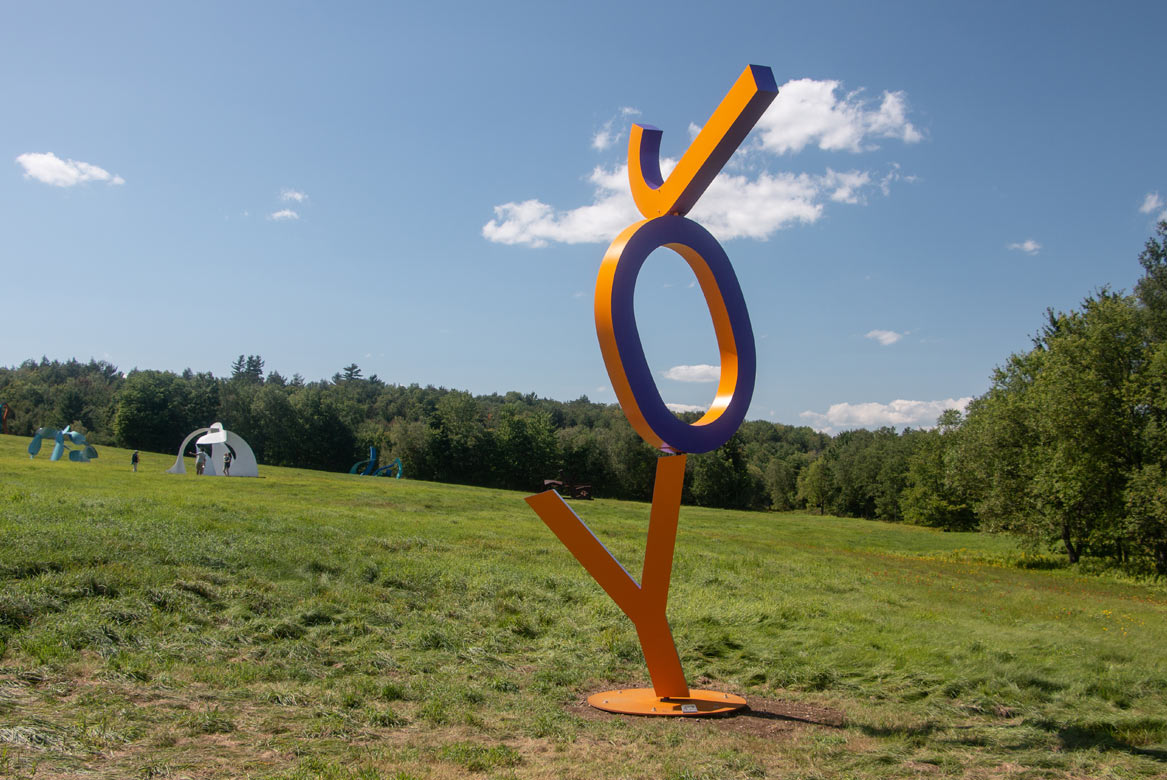 What More Can I Say?
2021 20' x 12' x 12' painted steel
We hope the Park evokes this sentiment. Each of the three parts rotates independently in the wind.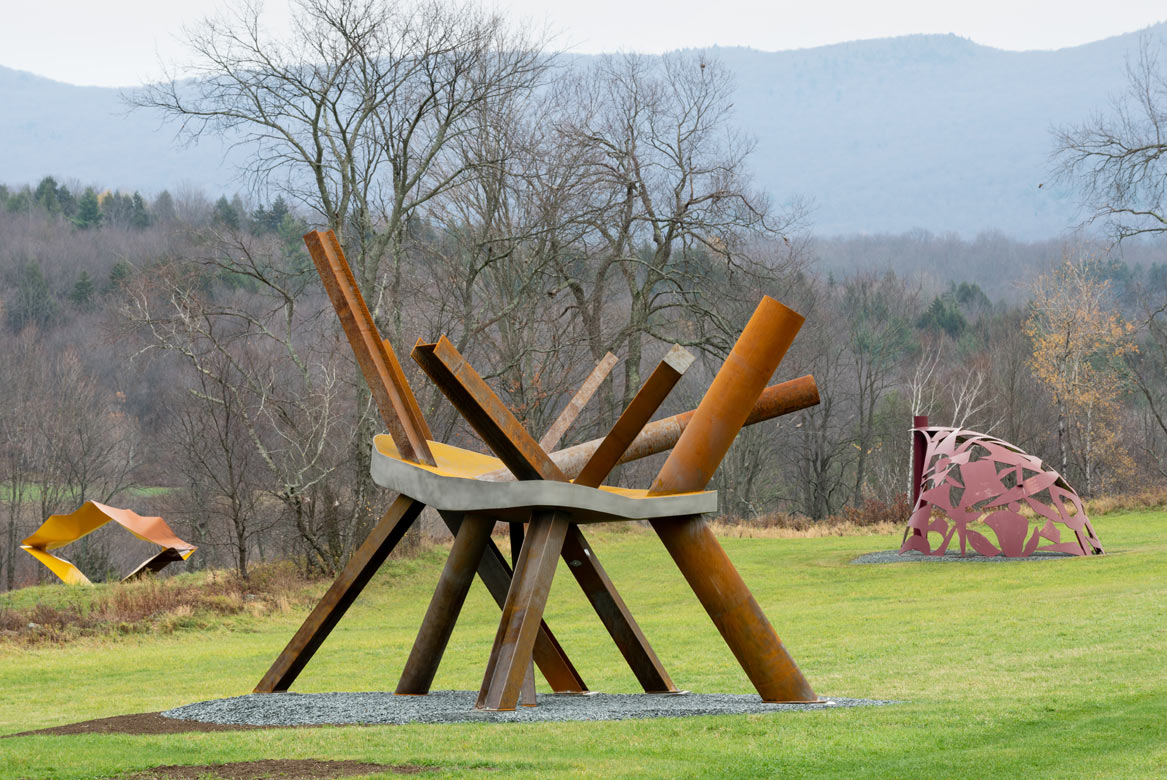 Body Politic
2020 21'x 21' x 33' steel and stainless
A collective organization of individuals gathers for a purpose. Like all complex systems, it cannot be fully understood from any on vantage point.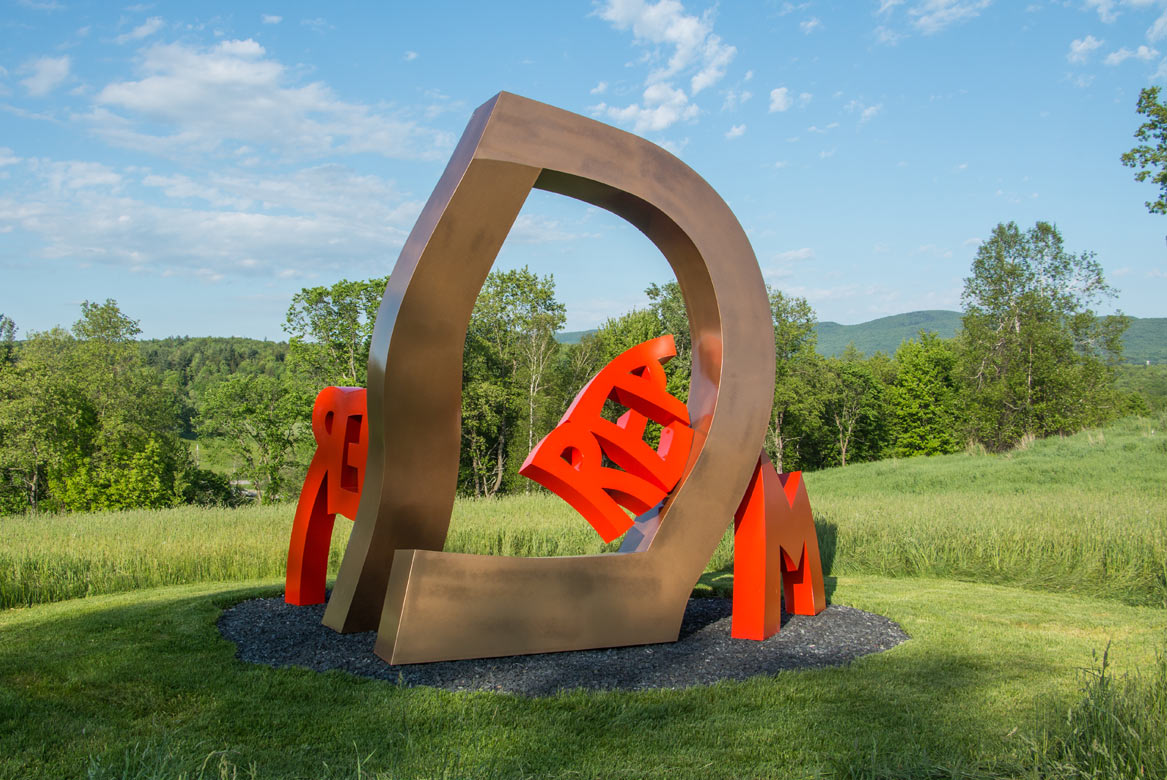 Portrait of the Artist
2020 12'x 10' x 13'
This is the first time I have configured letters. They spell out a vital attribute that inspires this artist.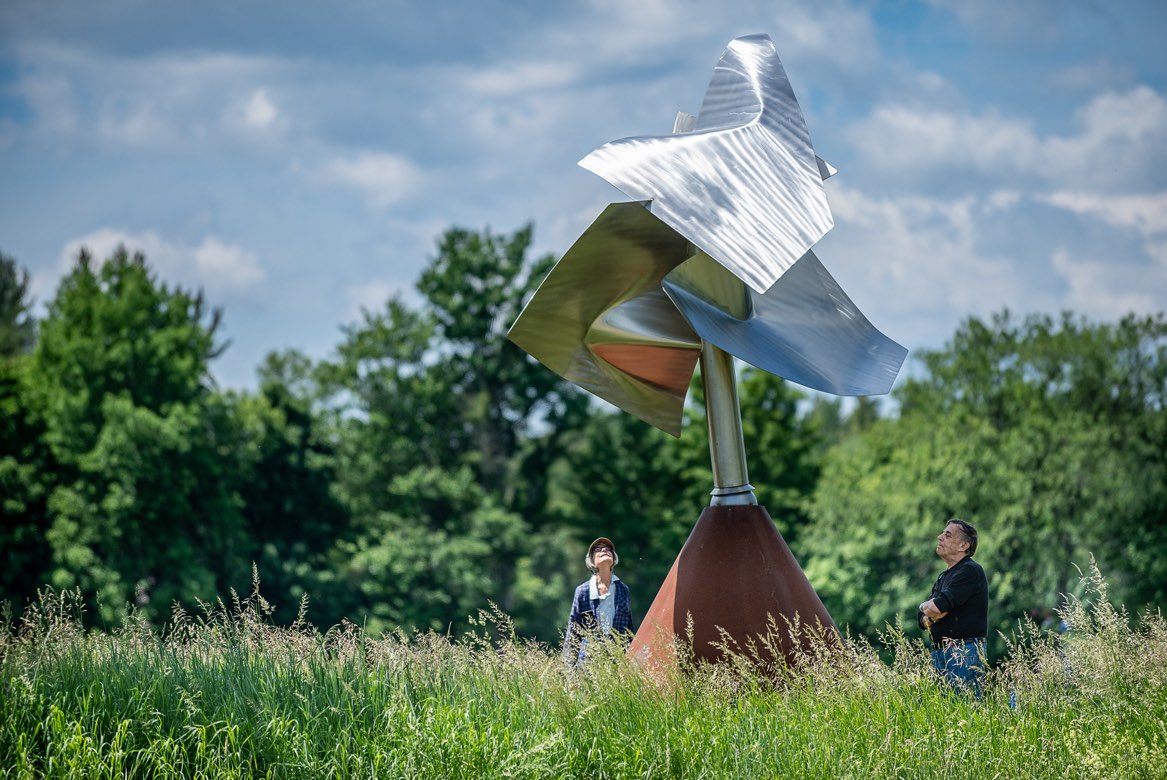 Do-Jo-Ji
2016-2020 13' x 8' x 8', corten and stainless steel
I imagined a complex shape able to rock and tilt in any direction while rotating. Ultimately this required sourcing specialized parts and solving tricky engineering/dampening problems. The many experiments and revisions required three years to get everything right.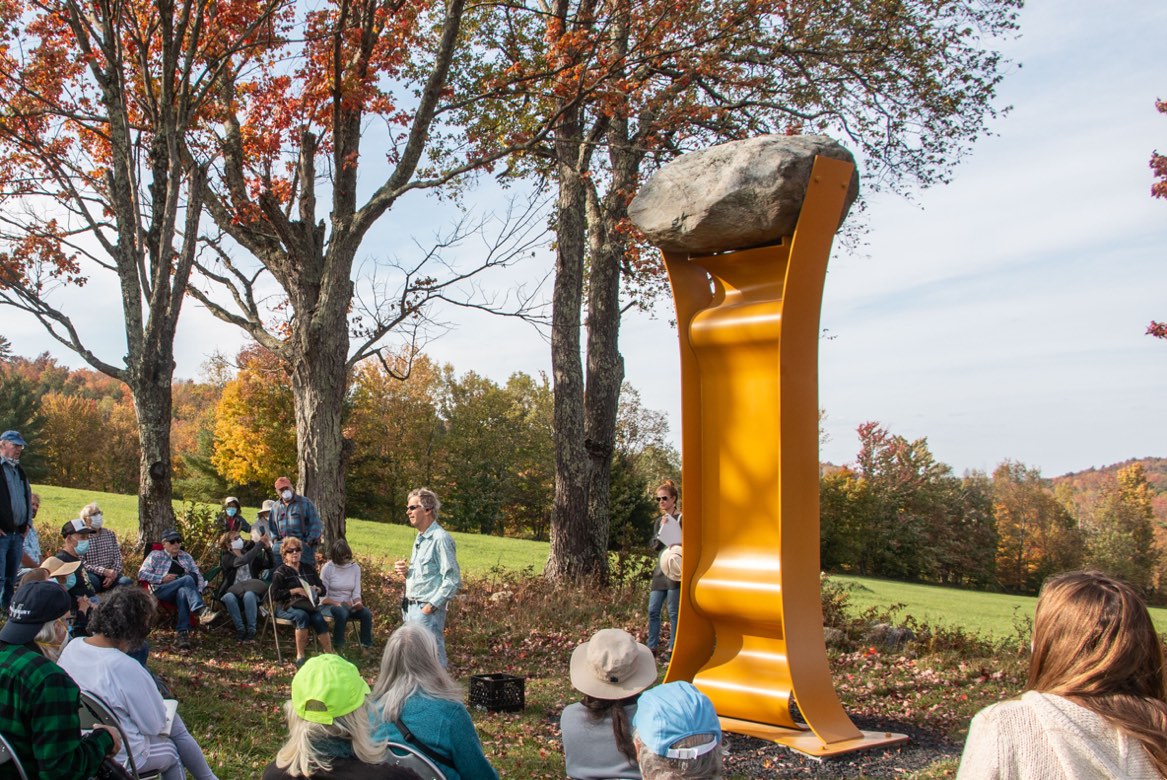 Do I Dare Disturb the Universe?
2020 15' x 4' x 8' painted steel and stone
For many years I have imagined a beam deforming under the stress of a formidable load. I finally put my vision to the test. The title is taken from a T.S. Elliot poem.
Ensemble 4+2
2019 8' x 16' x18', steel and stone
Comfortably contained or breaking free? What might this say about our physical and psychological relationship to the spaces we inhabit and to nature?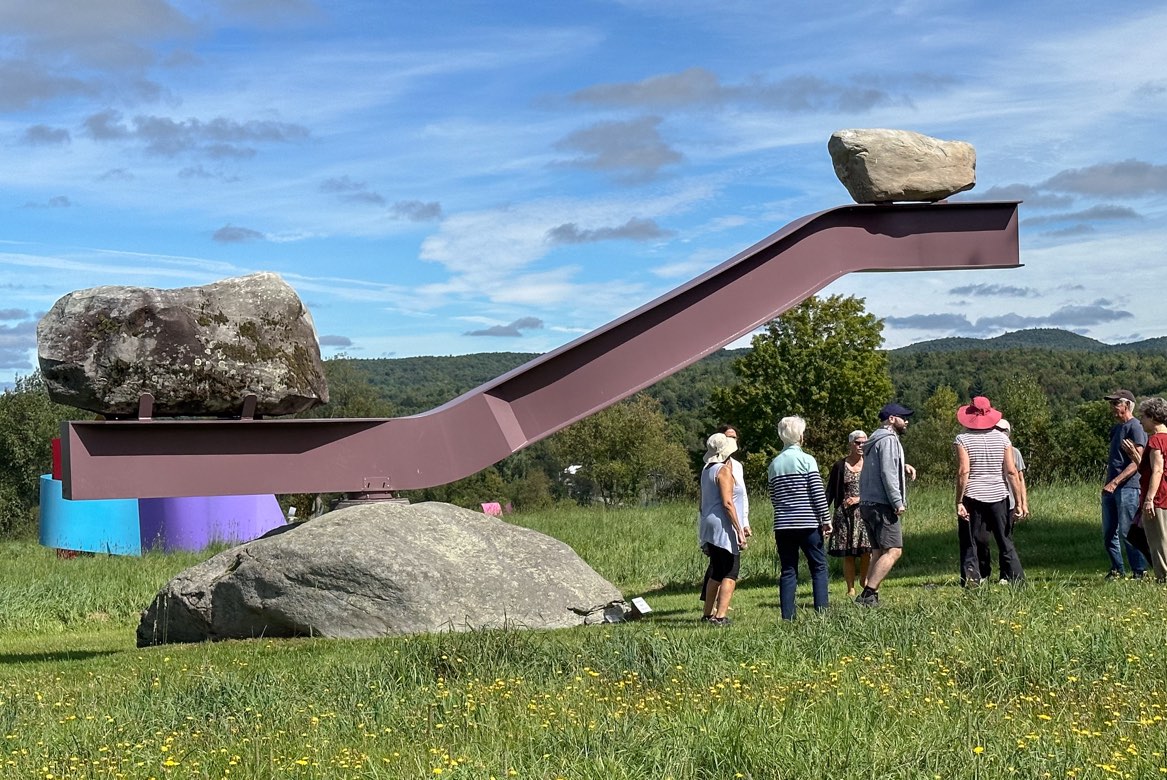 Moments in Play
2019 17' x 7' x 31', painted steel and stone
This is my first instance of using an existing, in situ landscape element at the Park. This sculpture presented several serious balance and engineering challenges. Surprisingly the seven-ton structure turns in a modest wind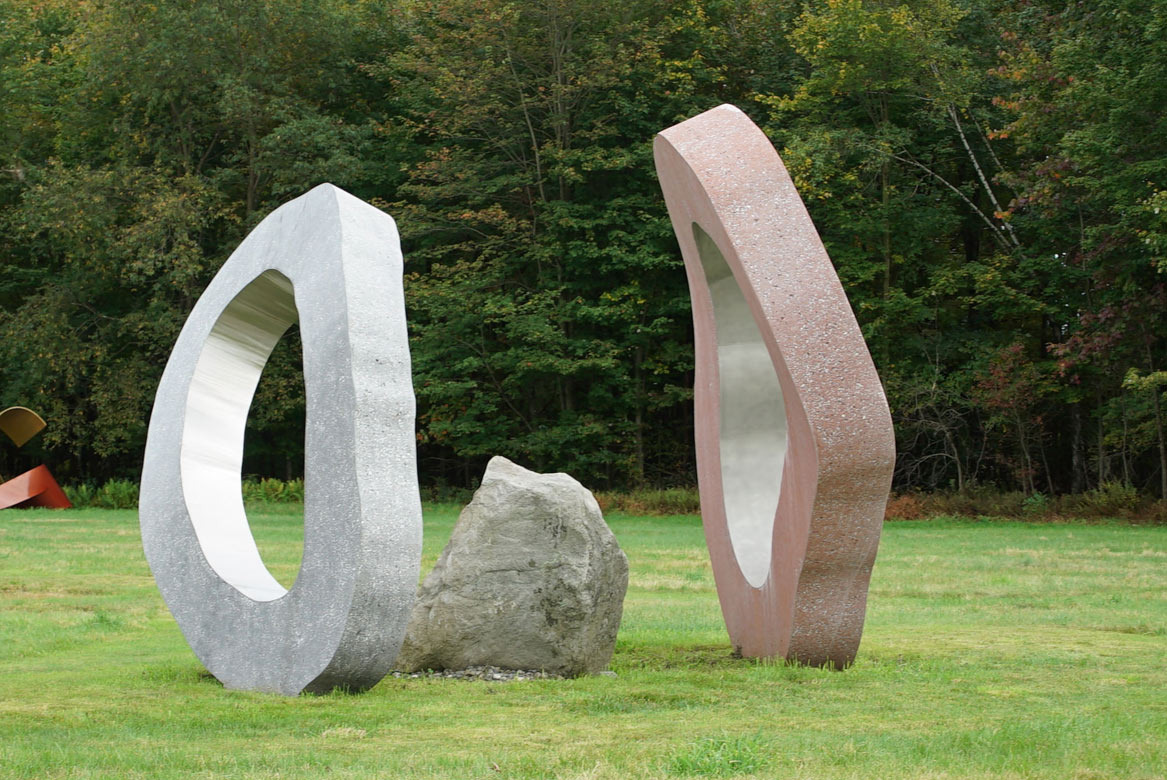 We Need To Talk
2018 12' x 11' x 14', concrete/stone/stainless
I distort the basic wheel shapes of the concrete, bend them, add the stainless, and work the surfaces all to animate them. The stone is quiet, protected, perhaps humbled.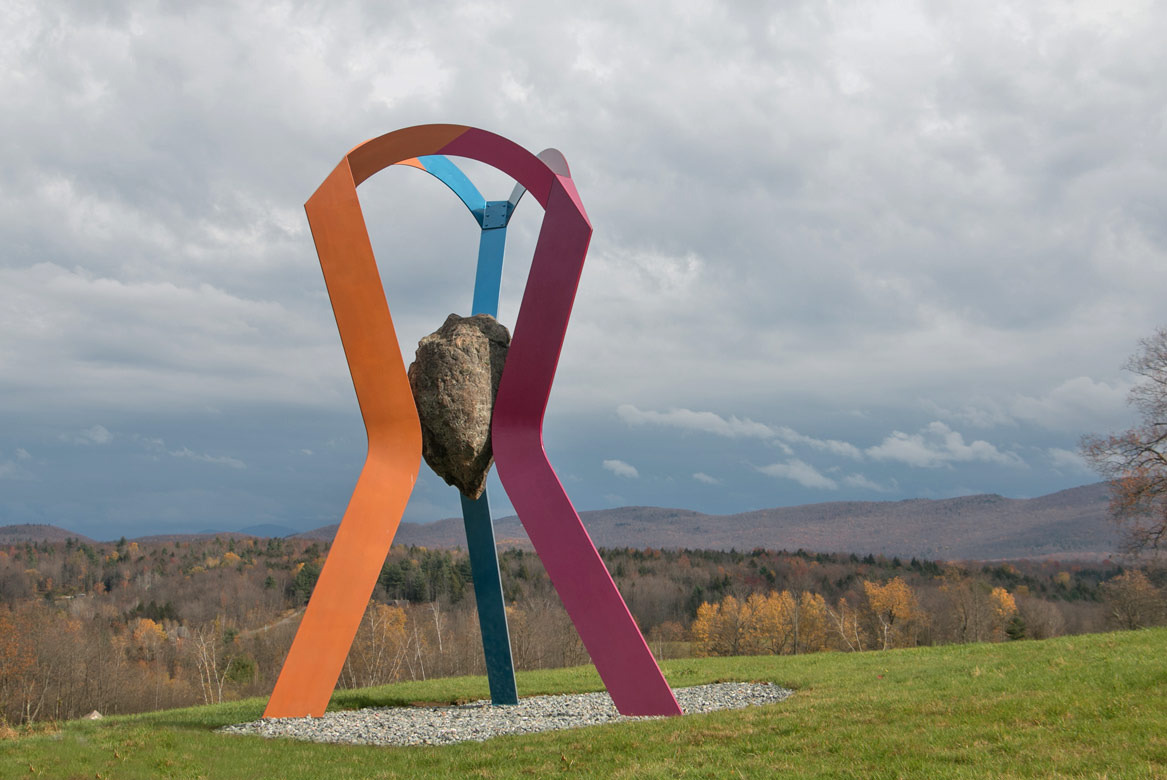 Sitting in with the Trio
2017 20' x 11' x 12', painted steel & stone
As in jazz, things come together through coloration, modulation, and rhythm to create a new whole.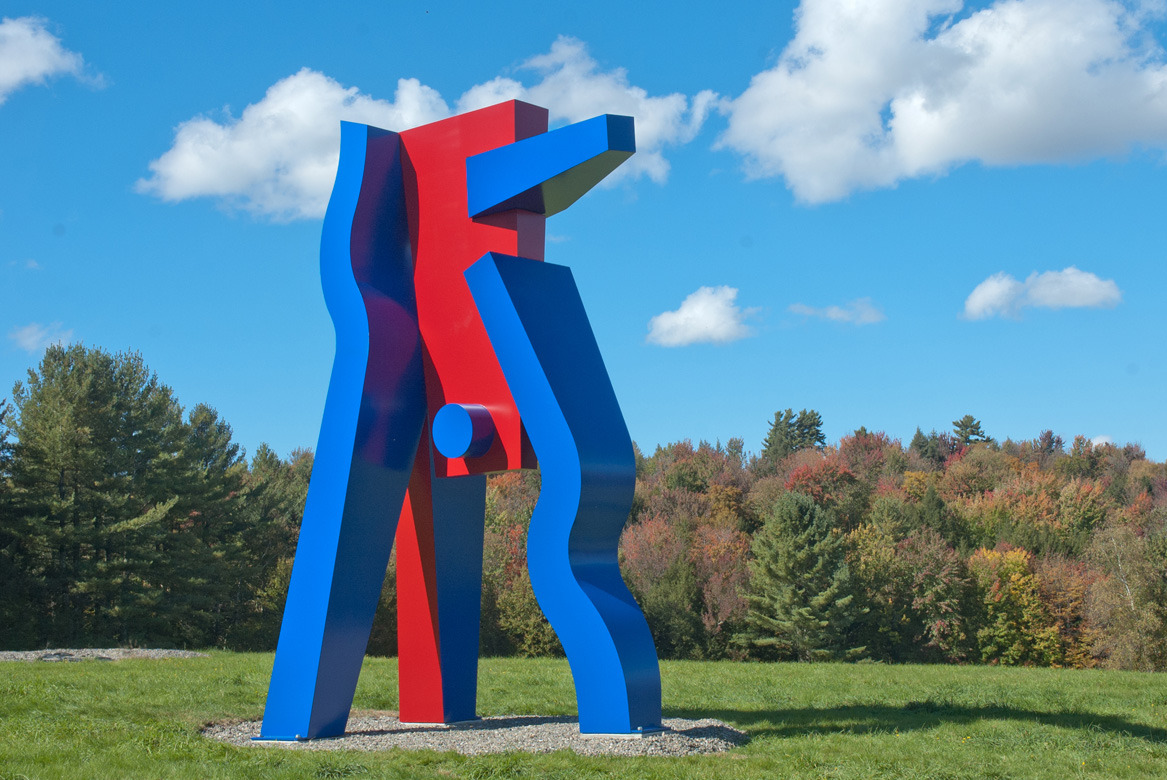 Jumoke
2013 20' x 12' x 8'
I have sited this male abstract figure looking across a large expanse of meadow to my female, concrete, totemic sculpture "Ngozi". I want the pair to speak and hold a huge space. The title is an Egyptian boy's name meaning "loved by all".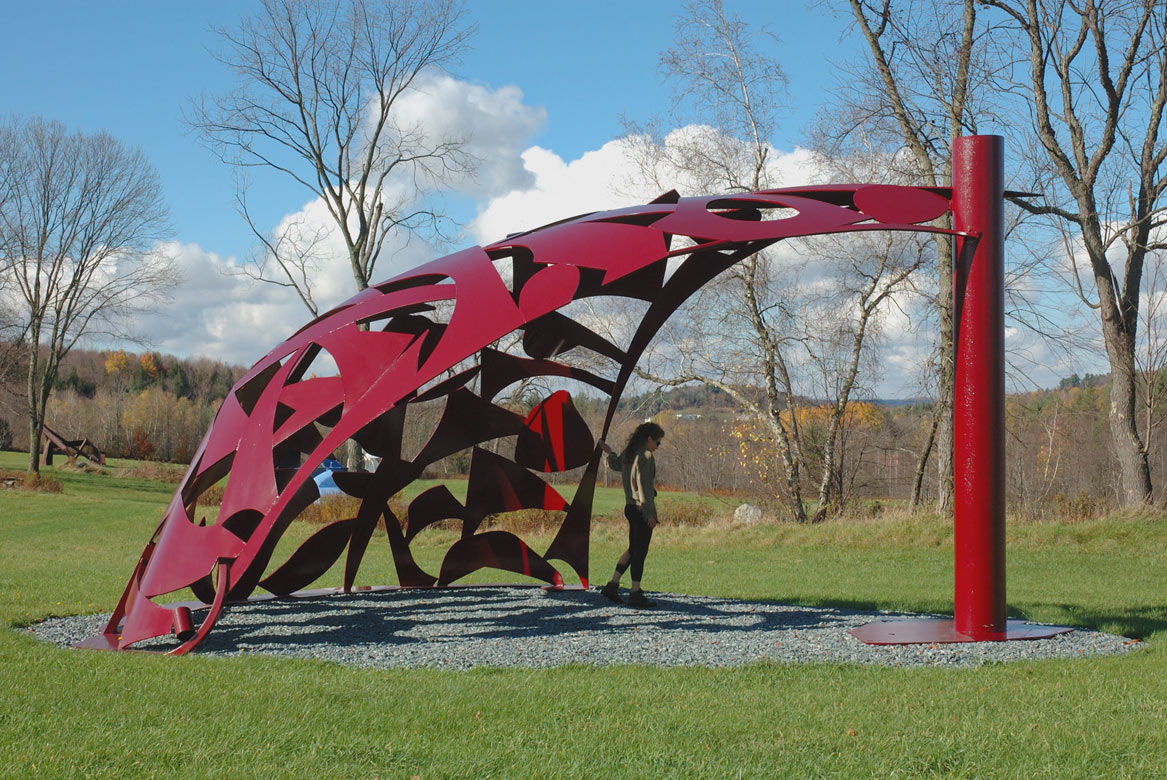 Darwin's Reply (for Arthur)
2007 12' x 15' x 24', painted steel
Though the shape and contour of each element is unique, they come together to render a cohesive whole much like the varied species of our natural world. In honor of my code-breaking father-in-law who much appreciated Darwin's work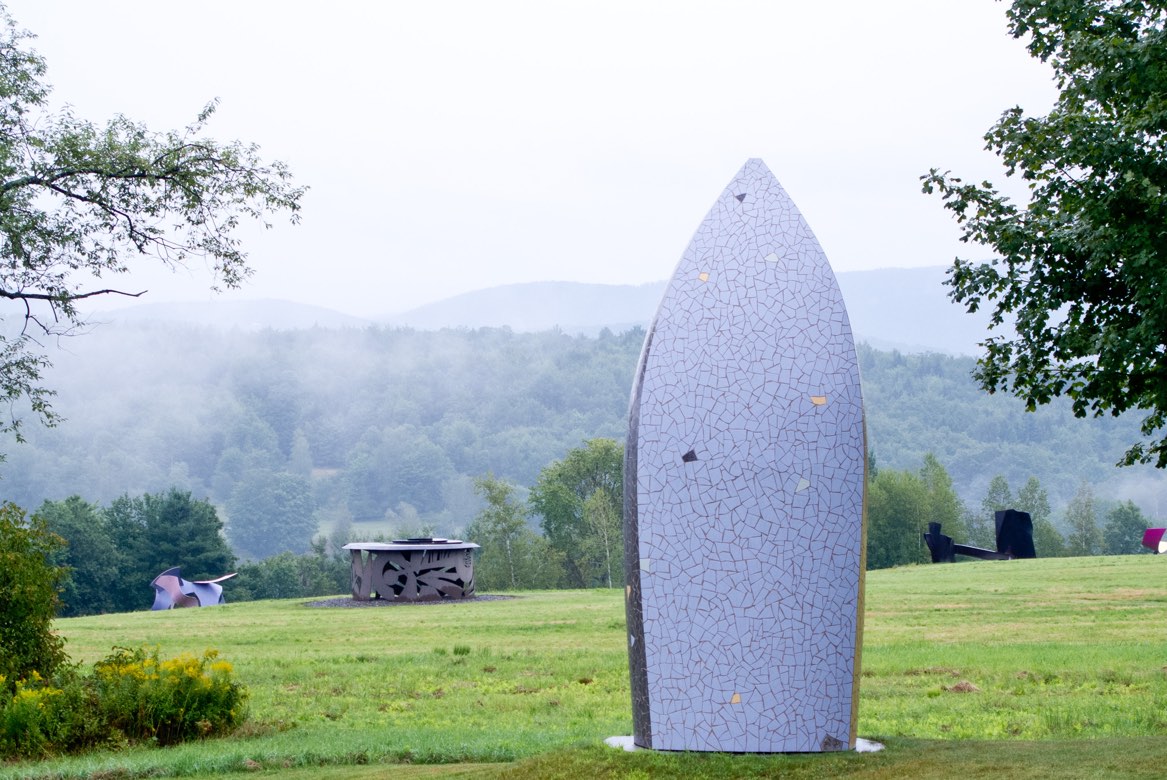 Oop-pop-pa-da
2010 18' x 8' x 6'
This four sided, compound-curved shape was first created in steel then clad in hand-broken, Italian, porcelain tiles. Its title comes from Dizzy Gilespie's upbeat scat tune.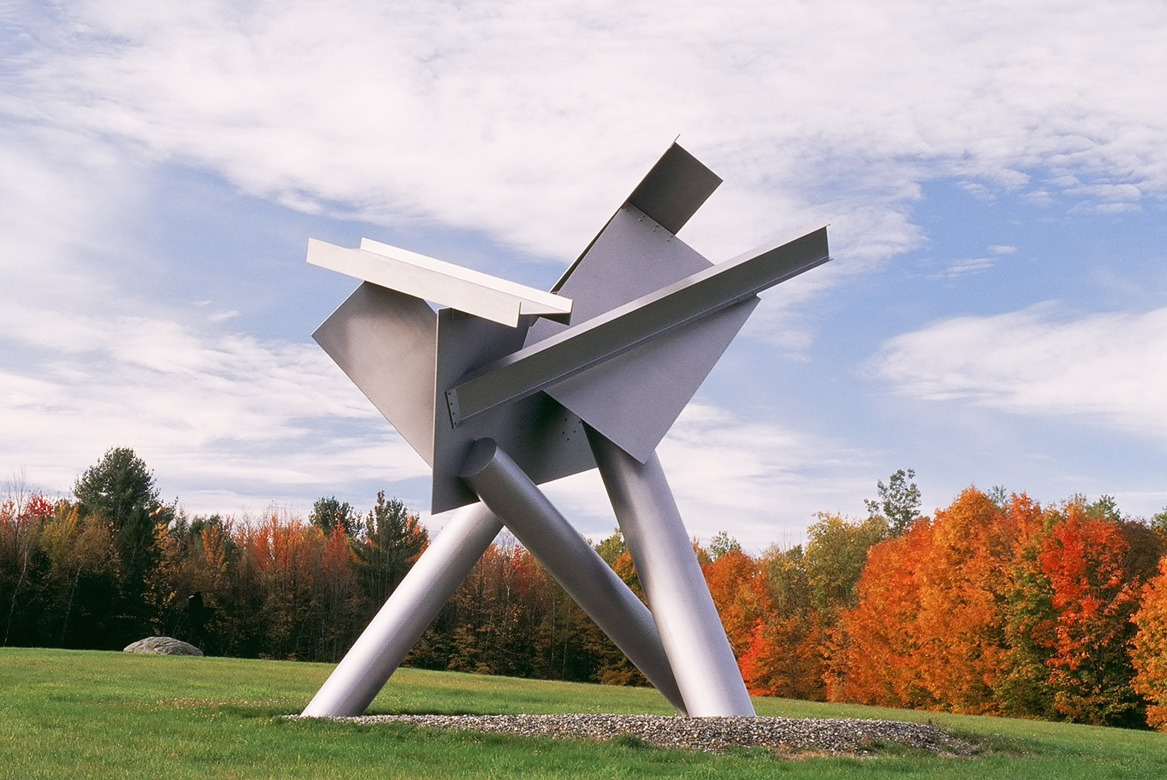 Three, Three, Three
2002 24' x 14' x 20'
For all the considerable size and weight, I like its playful, energetic, accidental quality.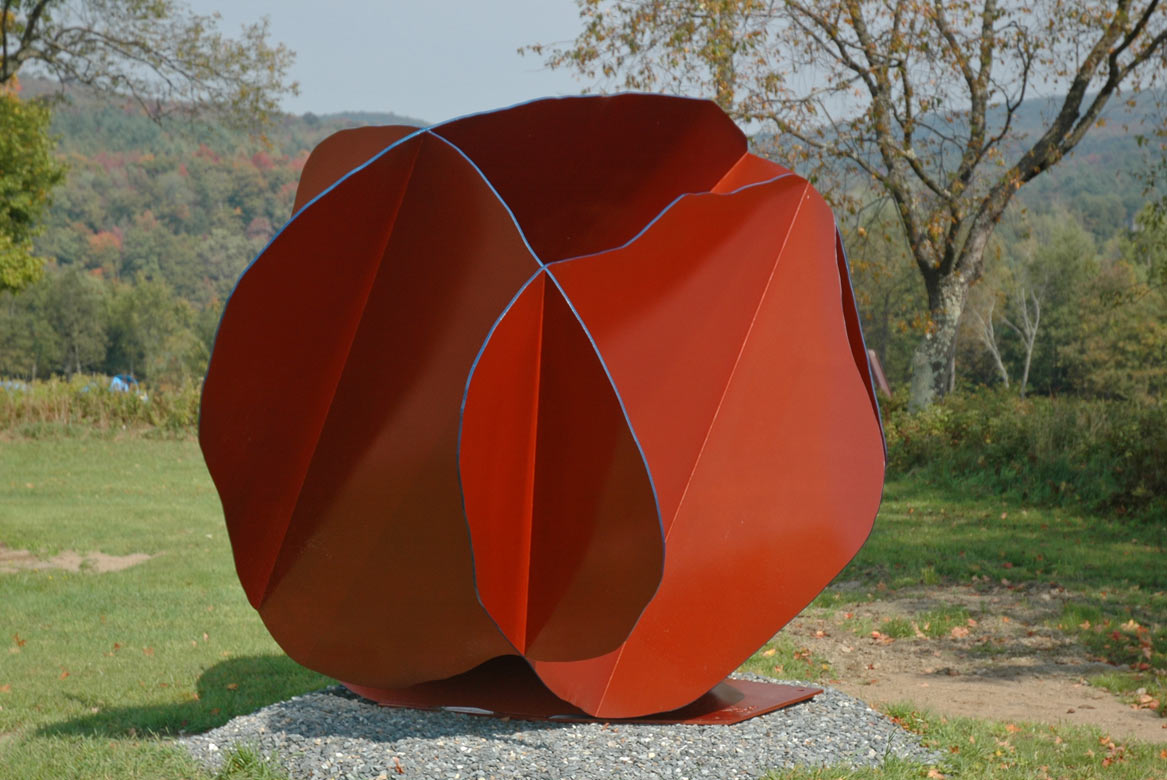 Slice Rock
2004 9' x 9' x 11'
For two years I worked to describe and articulate the form, surface, and inner spirit of one particular small field stone. Several works grew out of this exploration.