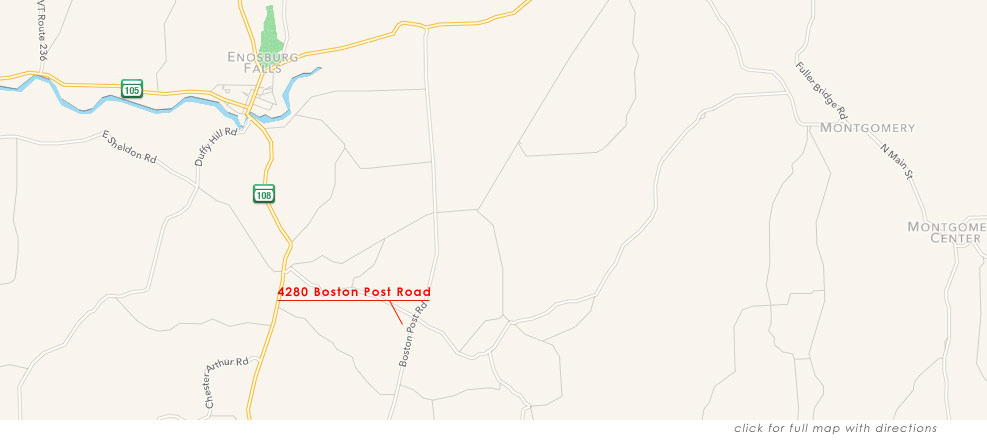 The Park is closed for the season. See you mid-June 2024.
Cold Hollow Sculpture Park is in Vermont at 4280 Boston Post Road near the village of Enosburg Falls. It is not far from Burlington and Montreal. Please refer to Google Maps for specific directions. Approaching on the Boston Post Road, from north or south, the CHSP concrete sculpture on the west side of the road indicates the entrance.
Visitor Guidelines - Visitors assume all risks.
Admission: CHSP is a free-of-charge nonprofit. Donations help support the Park. They can be made in our Welcome Barn via cash, check, credit card, Venmo or this website. For visitors of limited mobility: much can be seen from our on-property road. Please call 512.333.2119 for additional information.
Checking In: Please come into the Welcome Barn after parking. A volunteer will provide you with a map, booklet and verbal information about the Park.
Dogs are not permitted. Service animals as defined under ADA Title II and III are permitted. This only applies to dogs that have been individually trained to do work or perform tasks for a person with a disability. We cannot accommodate emotional support animals, pets, or any other animals not considered service animals under the ADA.
Protecting the Art: We hope you enjoy the Park and ask you to respect the care and work that went into each sculpture. Artwork surfaces are fragile, therefore, please no touching, climbing or walking on the artworks, or spinning kinetic ones. Hitting the artworks with stones, sticks, or any hard, sharp objects, is strictly prohibited.
Walking the grounds: Our meadows provide feed for our neighbor's cows; the hay is cut twice a season. Foot paths are always mowed but the hay through which they wind might be high. Sturdy walking shoe are advised. Kindly note that as the studio is an active fabrication facility, it is not open to visitors.
Picnicking: Enjoy your picnic and relax. We just ask that you pack out what you pack in.
No Smoking: CHSP is a smoke-free environment. Smoking, including e-cigarettes, is not permitted on Park grounds.
Organized Groups: We are able to host large groups on a case-by-case basis. To request a group visit, please email a proposal outlining intensions and details to Director, Chloe Vogt cvogt@coldhollowsculpturepark.com at least three weeks before.
FAQ
How long should I plan to visit? You are welcome to stay as long as you like within our operating hours (11 AM to 5 PM). We recommend roughly 2 hours to visit all areas of the Park at a leisurely pace.
Can I ride my bike or jog through the Park? For safety reasons, no.
Is the Park suitable for children? Yes. The Park is a wonderful place for all ages to explore. We ask that all children be supervised so they and the artworks are not endangered.